Youghiogheny River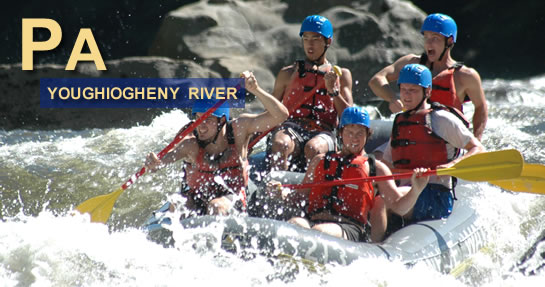 Location: Ohiopyle State Park, Pennsylvania, near Pittsburgh
Youghiogheny River rafting is one of the most popular whitewater activities on the East Coast, and for good reason. With a long season, reliable water, and varying levels of difficulty, this river has something for everybody. The entire family can enjoy the tame rapids of the Lower Yough and the experienced whitewater enthusiast will love the steep, technical rapids of the Upper Yough.
Go Rafting with A Commercial Outfitter in Pennsylvania

Whitewater Adventurers has operated river trips in Pennsylvania for over 30 years. Their commitment to quality on and off the water, keeps their clients returning year after year.
Visit their website for more information about Youghiogheny River Rafting.
Sponsoring Outfitter
Upper Youghiogheny River Rafting: Class V+ / Advanced
Steep and technical, whitewater rafting the Upper Yough is not for the faint at heart. Dropping almost 1000 feet in the 10 miles from Sang Run to Friendsville, the action is almost non-stop. The first few miles of the Upper are easier, giving paddlers a chance to warm up; then the river gets steeper and the rapids more difficult. The last few miles are easier as you near take-out at Friendsville.
Middle Youghiogheny River Rafting: Class I-II / Beginner
The Middle Youghiogheny is the easiest of the three sections; a mild float that allows for good wildlife viewing and fishing. It's perfect for a quiet and relaxing float trip, or as a place to take young children.
Lower Youghiogheny River Rafting: Class III-IV / Intermediate
The Lower Youghiogheny is probably the most popular section of the river. There are lots of rapids with names like Entrance, Cucumber, Railroad, Dimple, Swimmers and Double Hydraulics. These rapids are perfect for a broad range of experience levels.
Season: March – October
Trips are available on the Middle and Lower Youghiogheny daily during the spring and summer. The Upper Youghiogheny has releases on Mondays, Tuesdays, and Saturdays from mid-April through mid-September.