Middle Fork American River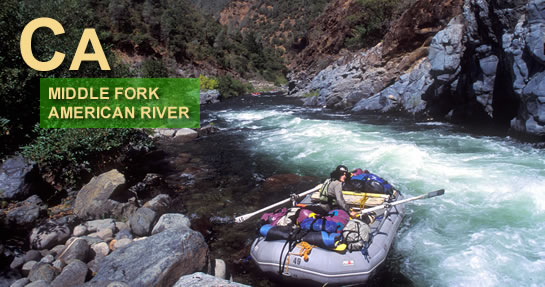 Location: Northern California about 45 minutes east of Sacramento
Located in the heart of Gold Country, the Middle Fork of the American River is just a few miles off Interstate 80 about halfway between Sacramento and Lake Tahoe.
Go Rafting with A Commercial Outfitter on the Middle Fork American
All-Outdoors California Whitewater Rafting is one of the original California outfitters. With over 45 years of experience they are also one of the most respected rafting outfitters in California. All-Outdoors runs one, two, and three day trips on the Middle Fork.
Visit their website for more information about Middle Fork American River rafting.
Sponsoring Outfitter
Level of Difficulty: Class III-IV / Intermediate
The Middle Fork of the American River is chock full of whitewater action. There are eight solid Class IV rapids, numerous Class III's, uncountable Class II's and the infamous – Tunnel Chute. The rapids on the Middle Fork American are characterized with steep drops and large hydraulics. The action starts just 30 yards downstream from put-in with a Class III rapid called Panic Alley. The next 2 miles provide fun, easy rapids as a warm up for the first Class IV challenges of the day, Last Chance and Tunnel Chute. More Class IV whitewater continues further downstream with Lettuce Hole and Kanaka Falls. After an interim of calmer waters, the river gradient steepens providing four miles of intense rapids, beginning with an 8′ waterfall called Chunder (Class IV). Immediately following is a mandatory portage around the Class VI, unrunnable Ruck-A-Chucky Falls. The action doesn't stop there as the river provides continuous Class IV rafting all the way to take-out, through Cleavage, Parallel Parking, Driver's Ed and Catapult rapids.
The Canyon: A 2000′ Deep Wilderness Canyon
The Middle Fork is a remote wilderness canyon. The hillsides are steep and covered with oak and pine trees. In the spring, poppies and lupine add plenty of color to the landscape. The river banks are enclosed by willow and lots of plump, wild black berries.
Season: April – October
Middle Fork rafting trips are 17 miles in length and run seven days a week all season long due to upstream reservoir releases, with 1, 2 & 3-Day trips available.