South Fork American River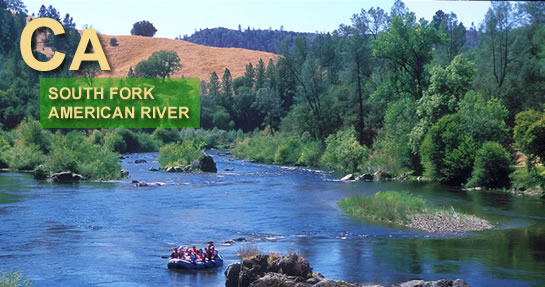 Location: Coloma, California
The South Fork American River is the most popular introductory river in California since it is suitable for beginners while still satisfying experienced rafters. It is located halfway between Lake Tahoe and Sacramento, and just two hours from the San Francisco Bay Area.
Go Rafting with A Commercial Outfitter on the South Fork of the American River

All-Outdoors California Whitewater Rafting is one of the most respected rafting outfitters in California, with over 45 years of experience. They were recommended by Lonely Planet in California Trips, 2009. They offer half, one and two day trips on the Gorge and Chili Bar sections of the South Fork American River.
Visit their website for more information about American River Rafting
Sponsoring Outfitter
Upper Section/ Chili Bar: Class III / Beginner
The Upper section is approximately 9 miles long and flows through a steep forested canyon. The action starts almost immediately with Meat Grinder (Class III+), a long technical boulder slalom. Class II & III rapids continue one after the other until the grand finale… a wild S-turn ride down a twisted chute called Trouble Maker (Class III+).
Lower Section/ The Gorge: Class III / Beginner
The Lower Run starts off mellow with easy Class II warm up rapids in the first few miles. The walls begin to close in from each side as you enter "The Gorge," where Class III+ rapids such as Fowlers Rock, Satan's Cesspool, and Hospital Bar are sure to challenge even the most experienced rafters. The lower section is approximately 12 miles long.
Season: March – October
The South Fork is controlled by upstream reservoirs that provide reliable flows seven days a week all season long with above average flows in the spring months. The South Fork is twenty-one miles in length and is divided into two sections, the Upper and Lower with 1/2, 1 or 2-Day trips available