Cherry Creek / Upper Tuolumne River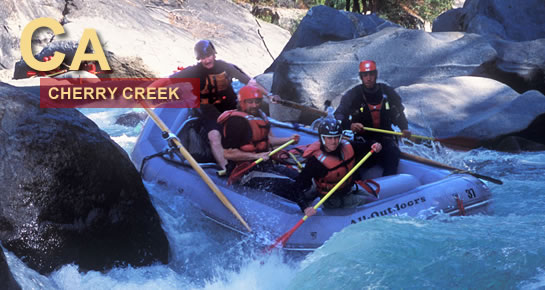 Location: Northern California near Yosemite National Park
Cherry Creek (the Upper Tuolumne River) is located near Groveland, 30 minutes outside of the northern entrance to Yosemite National Park.
Go Rafting with A Commercial Outfitter on Cherry Creek

All-Outdoors California Whitewater Rafting is one of the original California outfitters. With over 45 years of experience they are also one of the most respected rafting outfitters in California. They were recommended by Lonely Planet in California Trips, 2009. All-Outdoors runs trips on the South Fork, Middle Fork, and North Fork of the American River.
Visit their website fore more information about Cherry Creek rafting trips.
Sponsoring Outfitter
Level of Difficulty: Class V / Advanced
Cherry Creek drops at an average of 110 feet per mile and provides fifteen Class V and V rapids and many unnamed Class IV+ rapids. The first few miles are Class IV with a few "easy" Class V's: Guillotine, Corkscrew and Jawbone. Then, just around the bend, Mushroom (Class V) and Toadstool (Class V) line up back to back. Further downstream the recovery pools grow shorter and the rapids more difficult as the river enters into the "Miracle Mile." Here, the river drops over 200 feet in a single mile with 5 Class V rapids, one right after the other. More Class IV and V rapids continue until take-out at Meral's Pool. This 9-mile run is not for the timid. Cherry Creek is the ultimate in fast and furious whitewater. Significant Class IV and V paddling experience, adequate physical condition and swimming ability is required because total participation is needed to safely navigate this run.
Scenery: Granite Boulders and Crystal Clear Water
While this fast-paced, action-filled trip doesn't leave much time for taking in all the splendor, when you do get a chance to look around, you will be witness to one of the most breathtaking canyons in California. The clear aqua water juxtaposed against the grey granite and evergreen trees is truly an incredible backdrop for a rafting trip.
Season: June – October
Cherry Creek is dam-released so flows last throughout the summer. However, due to the technical, continuous nature of the run, it can only be run below 2000 cfs, so the season begins after the winter snow melts and the spring runoff is over.