Merced River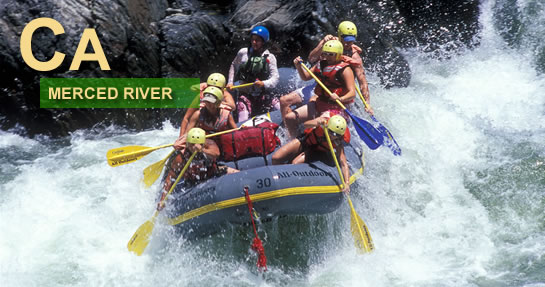 Location: Northern California just outside Yosemite National Park
The Merced River located CA Highway 140 halfway between Highway 99 and the El Portal Entrance into Yosemite Nation Park. The Merced meanders its' way twenty-nine miles down to Bagby reservoir through the Wild and Scenic corridor. The river is divided into two different sections, the Upper Red Bud Section and the Lower Briceburg section, which includes Quarter Mile Rapid. Both sections offer fun, yet challenging Class IV whitewater.
Go Rafting with A Commercial Outfitter on the Merced River

All-Outdoors California Whitewater Rafting is one of the original California outfitters. With over 45 years of experience they are also one of the most respected rafting outfitters in California. They were recommended by Lonely Planet in California Trips, 2009. All-Outdoors runs spring and early summer trips on the Merced River near Yosemite.
Visit their website for more information about Merced River rafting.
Sponsoring Outfitter
Level of Difficulty: Class IV / Intermediate – Advanced
Merced river rafting is ideal for those looking for an intermediate-advanced rafting trip. The Merced River is a Class IV run, perfect for adventurous first timers or those looking for the next step up from Class III. The upper section runs from Red Bud Picnic Area, just 15 miles west of Yosemite, down to Briceburg bridge. Dropping at almost seventy feet per mile, the most notorious rapids on the Upper Merced are Nightmare Island, Stark Reality, Hawaii 5.0, and Ned's Gulch. Highway 140 follows this section the entire way. The lower section runs from Briceburg bridge to McClure Reservoir and is usually rafted at flows under 1000 cfs. The river leaves the highway and enters an intimate canyon with steep hillsides. This section includes more technically demanding rapids such as Split Rock, Corner Pocket and four back-to-back Class IV rapids in the Quarter-Mile section. Just below Quarter-Mile rapid is a mandatory portage around the Class VI North Fork.
The Canyon: Grassy Hillsides with Oaks and Wildflowers
Designated as a Wild and Scenic river, the clear waters of the Merced flow through a Mid-Sierra canyon covered with a multitude of wild flowers such as Golden Poppies and Purple Lupine. The river flows though a sweeping canyon dotted with mighty oak and pine trees and beautiful grass-covered hillsides.
The Season: Spring from April – July
Without any upstream reservoirs, the Merced is a free flowing river and relies solely on melting snow. Merced river rafting trips are usually available from mid-April to mid-July, depending on the winter snowpack in the Sierra Nevada.