Tuolumne River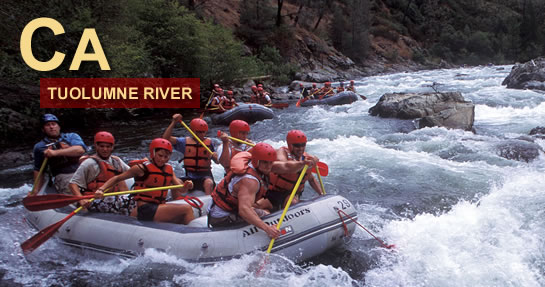 Location: Northern California near Yosemite National Park
The Tuolumne River is located 30 minutes west of the northern entrance into Yosemite National Park on Highway 140.
Go Rafting with A Commercial Outfitter in California

All-Outdoors California Whitewater Rafting is one of the original California outfitters. With over 45 years of experience they are also one of the most respected rafting outfitters in California. They were recommended by Lonely Planet in California Trips, 2009. All-Outdoors runs one, two, and three day trips on the Tuolumne River in the spring and summer.
Visit their website for more information about Tuolumne River rafting.
Sponsoring Outfitter
Level of Difficulty: Class IV / Intermediate
The Tuolumne River is characterized by large boulders and steep drops, creating long and technical rapids. From put-in at Meral's Pool to the Ward's Ferry bridge the Tuolumne drops almost 760 feet in elevation. Eighteen miles in length, the Main Tuolumne has more than a dozen Class IV rapids and numerous Class III's. The trip begins immediately with a long boulder slalom through Rock Garden and Nemesis, two of the more challenging rapids. The highlight of this trip is at the confluence of the Tuolumne and the Clavey Rivers, creating Clavey Falls (Class V). Other noted rapids on this run are Gray's Grindstone, Cabin and Hell's Kitchen.
The Canyon: Steep Grassy Hillsides Dotted with Oaks
Designated "National Wild and Scenic," the Tuolumne is a true wilderness river. With the perfect blend of remoteness, wildlife, and demanding whitewater, the Tuolumne River provides one of the finest whitewater rafting experiences in the country.
The Season: April – September
The Tuolumne is a dam controlled river which normally flows from April through September and often into October. Higher flows occur in the springtime as the snow rapidly melts causing water to spill over the dam.
Tuolumne River rafting trips can be 1, 2 or 3-day adventures. On multi-day trips, there is plenty of time for trout fishing, and side hikes up pristine canyons to warm swimming holes. Strict guidelines govern the commercial use of the river, allowing only two commercial companies to launch on any given day. This policy ensures that the wilderness value of the Main Tuolumne will not be interrupted.