Chattooga River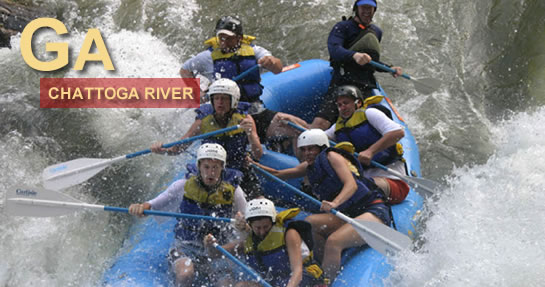 Location: Georgia/ South Carolina border
Chattooga River rafting is one of the most popular river trips in the country. The river has something for everyone, ranging from beginner Class II to advanced Class IV+. This "Wild and Scenic River" also provides excellent scenery for most of its length. The Chattooga River is the longest undammed river in the southeast.
Go Rafting with A Commercial Outfitter on the Chattooga River

Wildwater Limited is widely recognized as one of the finest whitewater rafting outfitters in the country. For 30 years, their attention to detail has made them a leader in the outdoor adventure industry. Providing high quality experiences on their adventure rafting trips is their number one priority.
Visit their website for more information about Chattooga River Rafting.
Sponsoring Outfitter
Level of Difficulty: Class II-IV+ / Beginner – Advanced
The Chattooga River is divided into three different sections, II, III & IV. Each section coincides with its level of difficulty.
Section II: Class II
The character of this classic South Carolina / Georgia river is remote with rafting available for all levels. Section II offers a mild float through fine wilderness and is also rich in Native American history. Section II drops approximately twelve feet per mile over the course of seven miles, allowing time for wildlife viewing or fishing.
Section III: Class III-IV
Section III is the most popular stretch of the Chattooga and is definitely more challenging. This section offers more than a dozen rapids in the Class III-IV (Intermediate – advanced) range. Some of the major rapids on this section are Dicks Creek Ledge, the Narrows, Second Ledge, Eye of the Needle and Painted Rock. Bull Sluice is the last and the most difficult rapid on section III rated Class IV+.
Section IV: Class IV
While section III is the most popular…Section IV is the most well known. This Section is the most difficult and steepest section of river currently being run commercially in the Southeast. In a one quarter-mile gorge, the river drops more than seventy-five feet through the famed Five Falls: Entrance, Corkscrew, Crack-In-the-Rock, Jawbone, and Sock-Em Dog.
Season: March through October
The Chattooga River whitewater rafting season generally runs from early Spring through late Fall.