Cheat River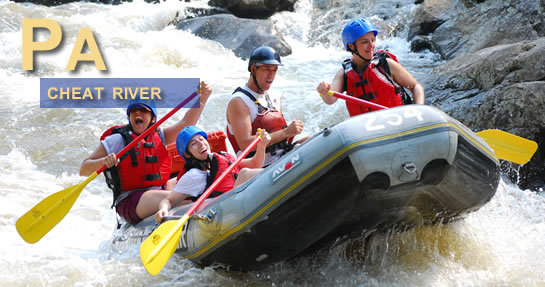 Location: Southwestern Pennsylvania
The Cheat River flows through a remote, narrow canyon. What truly makes this river a whitewater paradise is the multitude of hard rapids in an extremely remote environment. The Cheat River is generally less crowded than neighboring rivers, providing solitude. There is a trail that leads out of the canyon but at that point you are still a long way from civilization.
Go Rafting with A Commercial Outfitter in Pennsylvania

Whitewater Adventurers has operated river trips in Pennsylvania for over 30 years. Their commitment to quality on and off the water, keeps their clients returning year after year.
Visit their website for more information about Cheat River Rafting.
Sponsoring Outfitter
Level of Difficulty: Class IV-V / Advanced
Cheat River rafting offers more than thirty rapids. Most of the rapids are technical drops and boulder slaloms with names like Decision, Big Nasty, Tear Drop, and Fossil Falls. One of the more difficult rivers on the East Coast, the Cheat River is for experienced rafters only.
Scenery: Waterfalls and Wildlife in a Remote Canyon
Look for some of the beautiful waterfalls flowing off the canyon walls along the way. Native trout, wild turkey, black bear, and white tail deer abound in much of the Cheat River Canyon.
Season: April – June
The free flowing Cheat River only runs during the spring melt, in April, May and June.