Ocoee River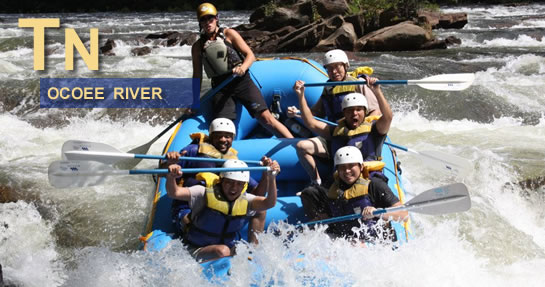 Detailed information about whitewater rafting trips on the Class III-IV+ Ocoee River in Tennessee near Atlanta, Georgia.
Location: Southeastern Tennessee, USA
The Ocoee River is the most popular whitewater rafting river in the East and for good reason. The river is only an hour from Atlanta and provides challenging Class III (beginner) to IV+ (advanced) whitewater. Ocoee river rafting is available on the Upper and Middle sections, which are controlled by upstream reservoirs.
Go Rafting with A Commercial Outfitter on the Ocoee River

Wildwater Limited is widely recognized as one of the finest whitewater rafting outfitters in the country. For 30 years, their attention to detail has made them a leader in the outdoor adventure industry. Providing high quality experiences on their adventure rafting trips is their number one priority.
Visit their website for more information about Ocoee River Rafting.
Sponsoring Outfitter
Middle Ocoee Run: Class III-IV / Intermediate
The Middle Ocoee is characterized as a pool-drop river. This means most rapids are followed by a calm pool where rafters can regroup. The run is five miles long with an overall gradient of fifty-seven-feet per mile. The Ocoee offers more than twenty Class III & IV rapids. The most notorious rapids are Broken Nose, Double Suck, Tablesaw, Hell Hole, and Powerhouse. Highway 64 follows the river almost the entire way making it easily accessible.
Upper Olympic Run: Class IV+ / Advanced
The Upper Ocoee has been named the Olympic run because it played host to the 1996 Olympic Whitewater competitions. The Upper Olympic run provides an additional five miles of Class IV+ whitewater. With rapids like Humongous, Let's Make a Deal, and Slam Dunk, this half-day whitewater rafting trip will challenge even the most experienced rafter.
Season: March – November (Specific Days and Dates)
Middle Ocoee river rafting trips are available on the weekends from March through the first weekend of November. During the summertime months of June, July and August, the Ocoee runs everyday except Tuesday and Wednesday.
Tennessee Valley Authority (TVA), the water managing agency, only releases water into the Upper Olympic section on certain weekends, usually on Saturdays from June through August with a few other release dates intermingled.