Jackson Hole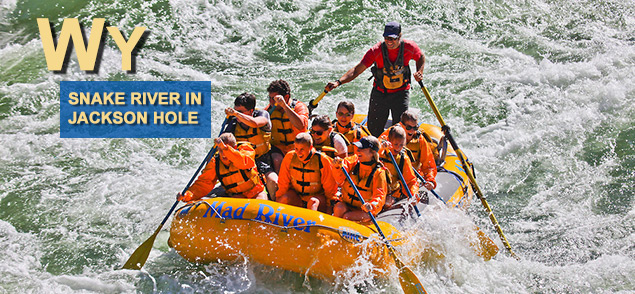 Location: Jackson Hole, Wyoming
Bird watchers, nature lovers, and whitewater rafters will all find something to love on a Snake River rafting trip in Jackson Hole, Wyoming. The Snake River valley is framed by the majestic Grand Tetons and Grand Teton National Park is very easily accessible. The popular town of Jackson is nearby.
Go Rafting with A Commercial Outfitter in Wyoming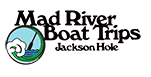 Mad River Boat Trips is a river outfitter in Jackson Hole, Wyoming. They have been operating daily river trips for over 40 years, and are your ticket to exploring the wild and scenic Snake River! They pride themselves on having the most highly certified, and professional Snake River guides to put you at ease and ensure a comfortable whitewater and scenic float experience.
Visit their website for more information about Wyoming whitewater rafting.
Sponsoring Outfitter
Level of Difficulty: Class III / Beginner
Jackson Hole river rafting trips range from 8 to 21 miles. Rafters can choose from gentle float trips, whitewater adventures, or combinations of the two. Those interested in relaxation and the abundant beauty of the valley will enjoy float trips on the Snake River's gentle Class I-II section. Jackson Hole river rafting can be the perfect family vacation as the gentle flows make it suitable for younger children. More adventurous whitewater rafters will also be thrilled by Jackson Hole river rafting. The eight mile long Class III section of the Snake River provides excitement with rapids like Lunch Counter and Big Kahuna.
Scenery: Dense Forest with the Grand Teton Mountains in the Distance
The thickly forested canyon and steep rocky walls are the perfect backdrop to an exciting Snake River rafting adventure.
Wildlife:
Rafters will enjoy the beautiful Snake River and also see Jackson Hole's rich wildlife—waterfowl, moose, and elk. The valley is proud to be one of the nation's most successful breeding grounds for the Bald Eagle and sightings are frequent.
Season: May – September
Jackson Hole whitewater rafting trips typically run from late spring through September.