Zambezi River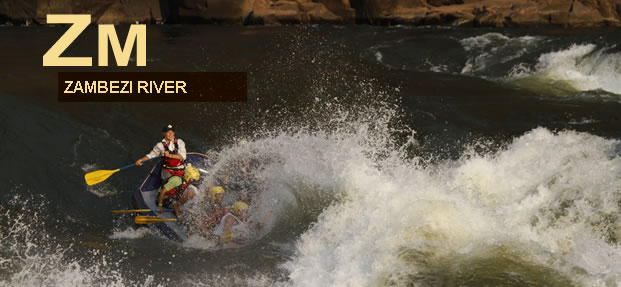 Location: Border of Zambia and Zimbabwe
The Zambezi River is sourced in NW Zambia, flows into Zimbabwe, crashes down Victoria Falls, and grows into a high-volume river on its long journey to the Indian Ocean. The Falls, marking the boarder between the two countries, is a UNESCO World Heritage Site, and is encompassed by two national parks.
Level of Difficulty: Class IV-V / Adventurous Intermediate – Advanced
The Zambezi River is wonderfully massive, pumping huge volumes of water down big drops and technical rapids. Boat-dwarfing class IV and V rapids like Oblivion, Overland Truck Eater, and Commercial Suicide, make Zambezi River rafting trips appropriate for those with a big taste for adventure. Previous rafting experience is not necessary, but not a bad idea for those who are timid about rafting.
Scenery: African savannah, baboons, eagles
If you can take your attention off the incredible whitewater of a Zambezi river trip you'll be rewarded with beautiful scenery and glimpses of exotic wildlife. The surrounding region is open savannah, but the intense spray from Victoria Falls creates a lush and seemingly out of place rainforest environment. The Bakota gorge impresses with steep black walls and soaring raptors.
Season: June – March
The Zambezi can be rafted most of the year, but the absolute best time to plan a Zambezi River rafting trip is during the low water season, from August to October. Trips range in length from half-day runs to multi-day adventures.