Zanskar River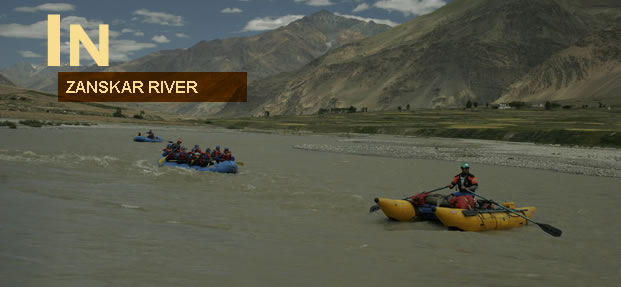 Location: Northern India, the State of Kashmir, Ladakh District
The Zanskar River expedition begins near Padum, the administrative capitol in the heart of the Zanskar Valley of the Himalayas. As the glacial waters flow northeast they cut through jagged terrain past snow-capped peaks rising up to 18,000 ft. The area's inaccessibility has protected this ancient Buddhist Kingdom and the monastic lifestyle of the Tibetan culture still practiced today. A Zanskar rafting trip offers rare access to this fascinating world and is the perfect combination of relaxation and exhilaration, culture and adventure.
Level of Difficulty: Class II-IV; Adventurous Beginner
While the Zanskar River drops roughly 2000 feet over 90 miles, the first half of the river is comprised of fun class II-III whitewater. On the later half rafters will experience more continuous class III-IV rapids as the canyon oxbows and constricts to a mere 18 ft. in some places. The big volume of the river makes for fun, rollercoaster-like waves and the narrow sections offer exciting rapids like "The Constriction".
Scenery: glaciers, pointed peaks, rocky cliffs and copper-streaked canyons
Rafting trips on the Zanskar begin with an astonishing drive through the Himalayan landscape of peaks and valleys filled with hanging glaciers and meadows of edelweiss flowers. As the voluminous river carves through the rusty colored moon-like backdrop, rafters will see rock formations, spires, copper-painted crags, natural springs, and impressive waterfalls. Additionally, as this area has been referred to as Little Tibet, travelers will see Tibetan Buddhist monasteries and untouched mountain villages.
Season: July and August
Much of the year the Zanskar region is buried in snow and the river is frozen. However, during the summer the days are pleasantly warm while the nights are cold. During the summer it is typically dry with rare precipitation.