Karnali River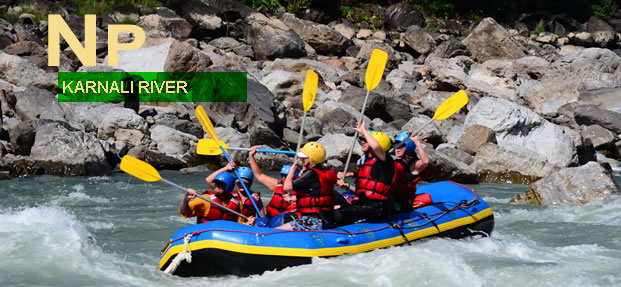 Location: Western Nepal, Bardia National Park near Surkhet
The Karnali River (meaning, Holy Water from the Sacred Mountain) originates in Tibet on Mt. Kailash and gushes down the mountains to form Nepal's largest and longest river. Located in a less traveled region (the "Wild West" of Nepal), a Karnali River trip provides both a remote and relaxing whitewater rafting adventure and a fascinating cultural experience. On the way to the river, travelers get an opportunity to see the villages surrounding Surkhet and experience the local culture firsthand.
Go Rafting with A Commercial Outfitter in Nepal
Rafting.com is currently seeking qualified outfitters for Featured Listings. If you are a local rafting outfitter in Nepal and would like to see your company listed here, please contact us for more information.
Level of Difficulty: III – V; Adventurous Beginner to Advanced
Although it's not as well-known as other rivers in Nepal, the Karnali River has some of the biggest, most fun whitewater rafting in the country. Rapids on the Karnali River crescendo perfectly, so with easier rapids on the first day, paddlers have the time to develop a team rapport and learn how to paddle together before trying their skills at the first big rapid, "Sweetness and Light." By the second and day, the river gorges and the white water gets more difficult. Rafters get a chance to challenge the quintessential big-water Himalayan rapids such as "Jailhouse Rock," "Inversion," "Humans for Lunch," and "Shake Rattle and Roll." The river climaxes at the notorious rapid, "God's House," however there are still plenty of fantastic rapids downstream such as "Juicer," "Flip-n-Strip," and "Freight Train."
Towards the end of a 112 mile Karnali River rafting trip, the Karnali River is joined by the Seti River where it widens and rafters have more time to sit back, relax, and enjoy the spectacular scenery.
Scenery: Tropical river forests and jungle, jungle birds, catfish, and fantastic waterfalls!
Rafting trips on the Karnali River allow for ample time to soak in some of the most pristine jungle scenery in the world. The Karnali River flows through narrow gorges as well as wider plains as it makes its journey through the foothills of the Himalayas to the Ganges River. Fishing on the Karnali River is some of the best on any river in Nepal with many different fish species including Rainbow Rrout and the prized Golden Mahseer.
Season: May and October
Karnali River rafting trips are best before and after the summer monsoon season, when the water is clear and the flows are consistent.