Tamur River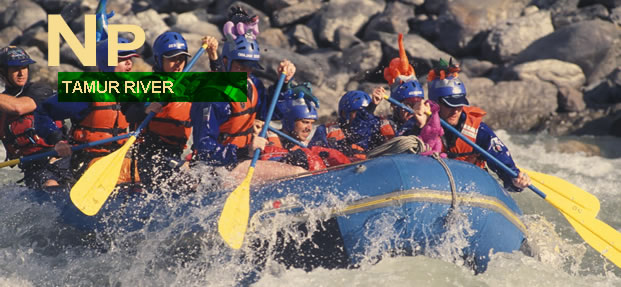 Location: Eastern Nepal, near Chitwan National Park
A tributary to the Sun Kosi River, the Tamur River lies deep in the heart of the Himalayan foothills, requiring an incredible four-day trek (porters carry all the gear) from Basantapur. This trip is one photo opportunity after another as views of the majestic Himalayan peaks, Kachengunga, Makalu, and Everest will capture your heart and be sure to keep your shutter clicking. After five days of rafting, the Tamur River joins the Sun Kosi River and rafting trips end in the town of Chatara.
Go Rafting with A Commercial Outfitter in Nepal
Rafting.com is currently seeking qualified outfitters for Featured Listings. If you are a local rafting outfitter in Nepal and would like to see your company listed here, please contact us for more information.
Level of Difficulty: III – IV+; Adventurous Beginner to Advanced
Flowing from the melted snows of Mt. Kachenjunga, the Tamur River's rapids are continuous and exhilarating. The Tamur River flows through a narrow gorge that creates over 100 class III and IV rapids, many of them unnamed. Ocean-sized waves crash overhead as raft teams paddle together through roller-coaster wave trains. While the whitewater on the Tamur River is exhilarating and exciting, the scenery is the most fantastic part of any Tamur River trip.
Scenery: Views of the Himalaya Mountains, narrow gorges, rice fields, and wildlife
Deep in a canyon that has been carved out of the grandest mountains in the world, the Tamur River is truly a remote and peaceful experience. Other than the monkeys, birds, and occasional rice farmers seen from the river, the Tamur River is a less-traveled area of Nepal. Big white sandy beaches are perfect for relaxing in camp and on a layover day where paddlers rest-up before challenging more awesome rapids.
Season: October and November
River rafting trips on the Tamur River are offered in October and November after the summer monsoon season. Trips in October tend to be higher water, and are best-suited for more adventurous rafters.