Green River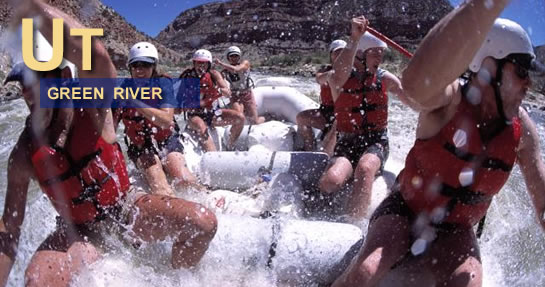 Location: Eastern Utah
Taking a Green River rafting trip is akin to stepping back in time. The rock formations of its two most popular canyons–Lodore and Desolation–date back one billion years. Dusty purples, lime grays and burnt amber rock hues decorate the gorges. In 1869, Major John Wesley Powell and his companions became the first-known explorers of this river. Today, the Green River still offers the incredible scenery that so astounded Powell.
Go Rafting with A Commercial Outfitter on the Green River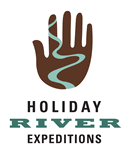 Holiday River Expeditions has provided trips to the West's most spectacular places for over 45 years. They are committed to offering a balance of activity, natural history and excitement.
Visit their website for more information about Green River Rafting.
Sponsoring Outfitter
Lodore Canyon: Class II-III / Beginner
Named in Outside Magazine as one of the most coveted river trips in the United States, a Lodore Canyon rafting excursion is one of the more memorable experiences of a lifetime. The trip begins its forty-four-mile descent in the rolling hills of Browns Park. There, the towering auburn flanks of the Gates of Lodore mark the beginning of the canyon. A few miles downstream rafters encounter Disaster Falls, a Class III rapid named by Powell after his expedition suffered the loss of one of their boats there while attempting to navigate the river. The other major rapids of the trip–Triplet and Hell's Half-Mile–are technically challenging, especially at low water levels.This four-day trip ends with a festive float through the Class III rapids of Spilt Mountain.
Wildlife and History of Lodore Canyon
At Echo Park, the Yampa River merges with the Green and floats past Mitten Park Fault and through a favorite habitat of the endangered Peregrine Falcon. Bighorn sheep are plentiful in the canyon as are mule deer and canyon wrens. A stop at Jones Hole offers a hike along Ely Creek to Indian pictographs and a refreshing dunk in the waters of "Butt Dam Falls."
Desolation Canyon: Class II / Beginner
The beginning stretches of Desolation Canyon offer a reprieve from the rush of modern society. The water is languid and winds its way slowly through the tall canyon of gray-green limestone and pale orange-purple sandstone. Deeper into the eighty-four-mile trip the rapids get trickier but never exceed a mild Class III. Normal summer water flows render most of the rapids Class II.
Scenery in Desolation Canyon
It's the scenery that lures most boaters to this section of the Green. Sunrises and sunsets can be epic in the canyon, which is deeper than the Grand Canyon in certain sections. A few hearty souls once tried to homestead in this area; the longer length of this trip allows for hikes up to see the remnants of these bungalows.
Season: May – September
Green River rafting trips are available on specific dates throughout the spring and summer