Utah
Utah whitewater rafting trips range from a two to six days in length. The most popular river trips in Utah are on the Colorado, Green, Yampa and San Juan rivers.
Go Rafting with A Commercial Outfitter in Utah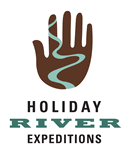 Holiday River Expeditions has provided trips to the West's most spectacular places for over 45 years. They are committed to offering a balance of activity, natural history and excitement.
Visit their website for more information about Utah Whitewater Rafting.

Sponsoring Outfitter
Colorado River Rafting Trips (Class III-IV): The Colorado River flows through many canyons on its three-state journey. The most legendary of these are Westwater and Cataract canyons. Each boasts thrilling Class III-IV rapids as well as stunning scenery. Trips vary from two to six days in length.
Green River Rafting Trips (Class II-III): The Green River flows through two canyons, Lodore and Desolation. Lodore Canyon river trips are four days in duration and 44 miles in length. Desolations Canyon river trips are generally five days long, covering 84 miles of river.
Yampa River Rafting Trips (Class III-IV): The Yampa River consists of Class III-IV whitewater on the last free-flowing river in the Colorado River System. River trips are five to six days in length, covering forty-six miles.
San Juan River Rafting Trips (Class II): The San Juan River flows for 84 miles through 1,000-foot deep canyon. This beginner Class II river trip floats past many Anasazi archeological sites during its three- to four-day course.
About Whitewater Rafting in Utah
Utah whitewater rafting trips are well known to river runners around the world. What makes them so phenomenal is the spectacular and unique geology of the many rivers across Utah and the solitude they provide. The rivers and canyons are all part of the Colorado Plateau… a vast uplifted portion of the earth's crust. The Colorado Plateau forms the foundation for all Utah rivers. Many of these river canyons measure more than 2000-feet deep, at some points they are deeper than the Grand Canyon.