Yampa River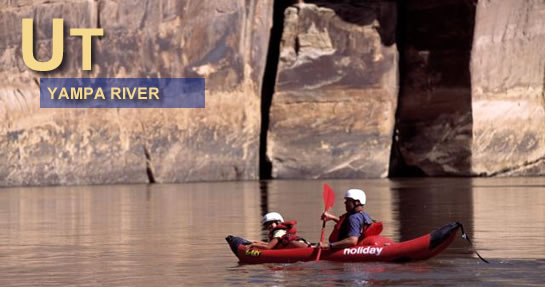 Location: Dinosaur National Monument, Utah, near Vernal
The Yampa is the last free-flowing river in the Colorado River drainage system. While the majority of a Yampa river rafting trip is fairly mild, the canyon is majestic with its sheer walls looming hundreds of feet above the river. Natural interaction between microorganisms, the limestone and sandstone rock creates weeping black trails down the canyon's smooth walls, eliciting a tiger stripe effect which has become a hallmark of the Yampa canyon. The Yampa river flows through the Dinosaur Nation Monument for the majority of its length.
Go Rafting with A Commercial Outfitter on the Yampa River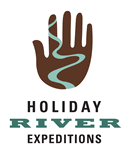 Holiday River Expeditions has provided trips to the West's most spectacular places for over 45 years. They are committed to offering a balance of activity, natural history and excitement.
Visit their website for more information about Yampa River Rafting.
Sponsoring Outfitter
Level of Difficulty: Class II-IV / Intermediate
Though a great deal of Yampa River rafting is spent floating lazily in calm waters, during high spring flows Warm Springs rapid becomes highly boisterous and is considered Class IV (intermediate). The last twelve miles of this forty-six-mile trip flows through the Class II-III rapids of Split Mountain, making for a festive end to this four or five-day river trip.
Wildlife and History
As the river meanders through the ancient rock formations of Dinosaur National Monument, it passes many archeological sites. At Mantle Cave, visitors view an abandoned Fremont Indian granary used to store food over the winter. At Jones Hole, a hike up the well-maintained trail offers incredible trout fishing in Jones Hole Creek and an opportunity to visit Native American pictographs. Just down from where the Yampa unites with the Green river at Steamboat Rock in Echo Park, visitors view the colossal Mitten Park Fault-its purples, reds and oranges mark time measured in millennia.
Season: May – June
River trips are offered on the undammed Yampa River in the springtime when the snow melts and the water is high enough for rafting.