Idaho
Idaho whitewater rafting trips offer scenery unlike any other region. The sheer magnitude of the canyons is breathtaking. It is often said that the rapids are second to the awe-inspiring feeling of being deep in a canyon with steep walls resembling those found in the Grand Canyon. If you are looking for the complete rafting experience, then explore the many Idaho whitewater rafting trips.
Go Rafting with A Commercial Outfitter in Idaho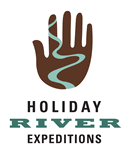 Holiday River Expeditions has provided trips to the West's most spectacular places for over 45 years. They are committed to offering a balance of activity, natural history and excitement.
Visit their website for more information about Idaho Whitewater Rafting.
Sponsoring Outfitter
Salmon River Rafting Trips (Class III-IV):
There a several multi-day trips offered on both the Main Salmon River and the Middle Fork of the Salmon River. Flowing through the remote Frank Church Wilderness, the Salmon is known for excellent fishing, wildlife, and hotsprings.
Bruneau River Rafting Trips (Class III-IV):
The turquoise waters of the Bruneau River run for 40 miles through a tall canyon of red rock reminiscent of Bryce and Zion National Parks. River trips last four days with beginner – intermediate Class III-IV rapids.
Clearwater River Rafting Trips – Middle Fork (Class I-II):
A relaxing scenic float through the Selway-Bitterroot Wilderness. The Clearwater River offers great wildlife viewing and mild whitewater.
Hells Canyon Rafting Trips – Snake River (Class III):
The Hells Canyon rafting on the Snake River consists of beginner – intermediate Class III-IV rapids. River trip options include rafting 34 miles in three days or 82 miles in six days.
Lochsa River Rafting Trips (Class IV):
Over 40 rapids in 20 miles makes the Lochsa River one of the best options for adventure-seekers anywhere in the United States. This free-flowing, springtime run is one of America's first Wild and Scenic rivers.
Moyie River Rafting Trips (Class II-III):
Just a short distance from the charming town of Sandpoint, Idaho, the Moyie River is a delightful and fun one-day rafting trip. Bouncy waves are a good introduction to whitewater and the scenery is stellar.
Selway River Rafting Trips – Lower Section (Class I-II):
A free-flowing mellow springtime run, the Lower Selway is a spectacular scenic rafting trip with a few mild rapids. Wildlife viewing, birding, and fishing are excellent on the Lower Selway River.
St. Joe River Rafting Trips (Class II-III):
The St. Joe River is located in the panhandle region and runs through one of Idaho's most lush and spectacular forests. The whitewater on the St. Joe is fun and exciting and is great for beginners or experienced rafters.
More About Rafting in Idaho
Idaho whitewater rafting trips vary from one to seventeen day adventures, due to the remoteness of the rivers. Many trips are designed for families looking to expose their children to the wonders of the Great Outdoors. It is not uncommon to see eagles, bighorn sheep and other wildlife. There is also great fishing available.