Salmon River
The Middle Fork and the Main Salmon River offer some of the best whitewater rafting and family river trips in North America. The Salmon River flows through the Frank Church River of No Return Wilderness Area in Idaho. They are part of the longest free-flowing river system in the contiguous United States.
Go Rafting with A Commercial Outfitter on the Salmon River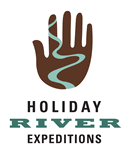 Holiday River Expeditions has provided trips to the West's most spectacular places for over 45 years. They are committed to offering a balance of activity, natural history and excitement.
Visit their website for more information about Idaho Whitewater Rafting.
Sponsoring Outfitter
Main Salmon River: Class II-III
Probably the most notable section the of Salmon River is the Main section. Rising out the Sawtooths, the Main salmon flows past the Middle and South Forks. The Main Salmon is home to abundant wild life, solitude and even some hot springs.

Middle Fork of the Salmon River Rafting Trips (Class III-IV):
The Middle Fork of the Salmon River consists of more than 100 beginner – intermediate Class III-IV rapids over the course of 100 miles. The Middle Fork is considered one of the best river trips in the world. Trips are offered from June through September.

Lower Salmon River Rafting Trips (Class II-III):
There are several multi-day rafting runs on the Main Salmon, all of them are great for children, have beautiful white sand beaches, fun Class II-III rapids, and offer incredible scenery and wildlife.