Lower Salmon River
Location: Near Riggins and Whitebird, Idaho
The Salmon is the longest stretch of un-dammed river in the Lower 48, flowing out of the Frank Church Wilderness Area across Idaho until it reaches the Snake River on the Idaho – Oregon border. The Main Salmon has a rich history and is nicknamed "The River of No Return" after Lewis and Clark's journey. There are two primary multi-day trips on the Main Salmon, one on the "Lower Main" above Riggins ("Whitewater Capitol of the Universe") and the other in the Main Salmon River Canyons near Whitebird.
Go Rafting with A Commercial Outfitter on the Lower Salmon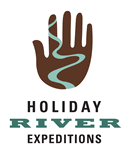 Holiday River Expeditions has provided trips to the West's most spectacular places for over 45 years. They are committed to offering a balance of activity, natural history and excitement.
Visit their website for more information about Salmon River Rafting.
Sponsoring Outfitter
Level of Difficulty: Class II-III / Beginner
The rapids on both the Main Salmon Canyons section and the Lower Main Salmon offer something for everyone, making them ideal rafting trips for families. Class II and III rapids are followed by long stretches of calm pools that are perfect for swimming. More adventurous boaters can try their luck in the inflatable kayaks (duckies) and will get a thrill from the roller coaster wave trains for which the Main Salmon is known.
Scenery and Wildlife: White Sand Beaches, Outstanding Fishing
Known for its outstanding fishing, the Main Salmon provides a beautiful setting for numerous species of wildlife. Spotted the most frequently are eagles, osprey, deer, and otter. The canyon scenery varies from dense forest to high desert. Because of the meandering nature of the Main Salmon River, most campsites are long sand bars, idyllic for an overnight stay.
Season: May – August
Because the Main Salmon is a free-flowing (un-dammed) river, the rafting season is dependent on the winter snowpack. Springtime flows tend to be higher, while lower flows and warmer water temperatures make for more mellow summer trips.