Main Salmon River
Location: Frank Church Wilderness, Central Iado, near Riggins, ID
The Salmon is one of the longest undammed rivers in the lower 48 states, is the longest river entirely within one state. From it's headwaters near Mt Galena in the Sawtooth Range, the Salmon flows north some 175 miles along the Bitterroots and then heads west.
Go Rafting with A Commercial Outfitter on the Main Salmon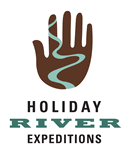 Holiday River Expeditions has provided trips to the West's most spectacular places for over 45 years. They are committed to offering a balance of activity, natural history and excitement.
Visit their website for more information about Main Salmon River Rafting.
Sponsoring Outfitter
Level of Difficulty: Class III – IV
Travel over 80 miles through pristine wilderness for five or six days. Along the way you will encounter well known rapids such as Devil's Teeth, Salmon Falls, Big Mallard and Elkhorn. While there are numerous exciting rapids, there are also stretches of calmer water, perfect for beginners to navigate the rapids in inflatable kayaks or paddle rafts.
The Canyon: Wild and Scenic
The Main Salmon River is famous for its pristine wilderness, exciting whitewater, hot springs and quiet solitude. The river flows through the largest wilderness area in the lower 48 states, passing through Challis, Payette and Salmon National Forests on its 82-mile trek. As there is no road access to the canyon, Main Salmon River rafting is a true wilderness experience.
Hot springs, Hikes, and History
Yes Hot Springs! Not as numerous other Idaho rivers; the main Salmon is host to Barth Hot Springs at mile 22. The river canyon is rich in history as well; pioneer homesteads and numerous archaeological sites and indian pictographs.
Fishing and Wildlife
The fishing on the Main Salmon is extraordinary– salmon, steelhead, cutthroat and rainbow trout are plentiful in the azure waters. Deer, elk, bighorn sheep, beaver, mink, cougar and bear also inhabit the canyon.
Season: June – September
Flowing from June through September, the Main Salmon swells in the spring from run off out of the Bitterroots, making this an excellent run for experienced rafters in the early season and great for families in July and August. Along the way the Middle Fork and South Fork join the Main Salmon.