Middle Fork of the Salmon River
Location: Frank Church Wilderness, Central Idaho, near Sun Valley
Flowing through the heart of Idaho's Frank Church Wilderness, the Middle Fork of the Salmon begins its journey near Stanley, Idaho, about one hour from the famous ski resort town, Sun Valley. Starting at 6000′ in elevation, the Middle Fork of the Salmon drops 3000′ in the 105 mile journey to its confluence with the Main Salmon.
Go Rafting with A Commercial Outfitter on the Middle Fork of the Salmon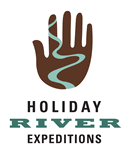 Holiday River Expeditions has provided trips to the West's most spectacular places for over 45 years. They are committed to offering a balance of activity, natural history and excitement.
Visit their website for more information about Middle Fork of the Salmon River Rafting.
Sponsoring Outfitter
Level of Difficulty: Class III-IV / Intermediate
Rafters careen through more than 100 Class III-IV rapids on this five or six-day trip, including Tappan Falls, Weber, Devil's Tooth, and Rubber. While there are numerous exciting rapids, there are also stretches of calmer water, perfect for beginners to navigate the rapids in inflatable kayaks or paddle rafts.
The Canyon: Wild and Scenic
The Middle Fork of the Salmon River is famous for its intense beauty, exciting whitewater and quiet solitude. The river flows through the largest wilderness area in the lower 48 states, passing through Challis, Payette and Salmon National Forests on its 100-mile trek. As there is no road access to the canyon, Middle Salmon River rafting is a true wilderness experience.
Hot springs, Hikes, and History
Hot springs enthusiasts will find many opportunities for a soak along the river's upper stretches. Later, a hike up to Veil Falls reveals a nook of lush greenery cradling a fairytale-like waterfall. The river canyon is steeped in history as well; pioneer homesteads and 120 sites of archaeological interest are within hiking distance of the river.
Fishing and Wildlife
The fishing on the Middle Salmon is extraordinary– salmon, steelhead, cutthroat and rainbow trout are plentiful in the azure waters. Deer, elk, bighorn sheep, beaver, mink, cougar and bear also inhabit the canyon.
Season: June – September
Flowing from June through September, the Middle Salmon swells in the spring, making this an excellent run for experienced rafters in the early season and great for families in July and August. With all its tributary creeks and streams, the river grows to four times its original water volume before its confluence with the Main Salmon at the end of the trip.